Learn More About PathViewer
As the pathology imaging field advances, data management solutions need to keep pace. At Glencoe, we are constantly searching for ways to innovate and improve our products. We talk to customers, listen to feedback, and survey the marketplace to determine what enhancements we need to make to our software.
What's New?
PathViewer is our powerful image data management and access solution created expressly for researchers and pathologists. Built to work seamlessly with Glencoe's OMERO Plus and OMERO from OME, PathViewer is a dedicated solution tailored to support the digital pathology workflow. This web browser-based platform agnostic application allows you to visualize, annotate and share pathology images—simply and from anywhere you work.
One of the biggest growth areas in the field of digital pathology is the use of a large number of channels, which vastly increases the number of probes and pathways detectable with immunostaining. This creates a challenge in that it can be difficult to switch between channels and easily explore the vast amount of data created by this method.
Below are the newest features that solve this problem: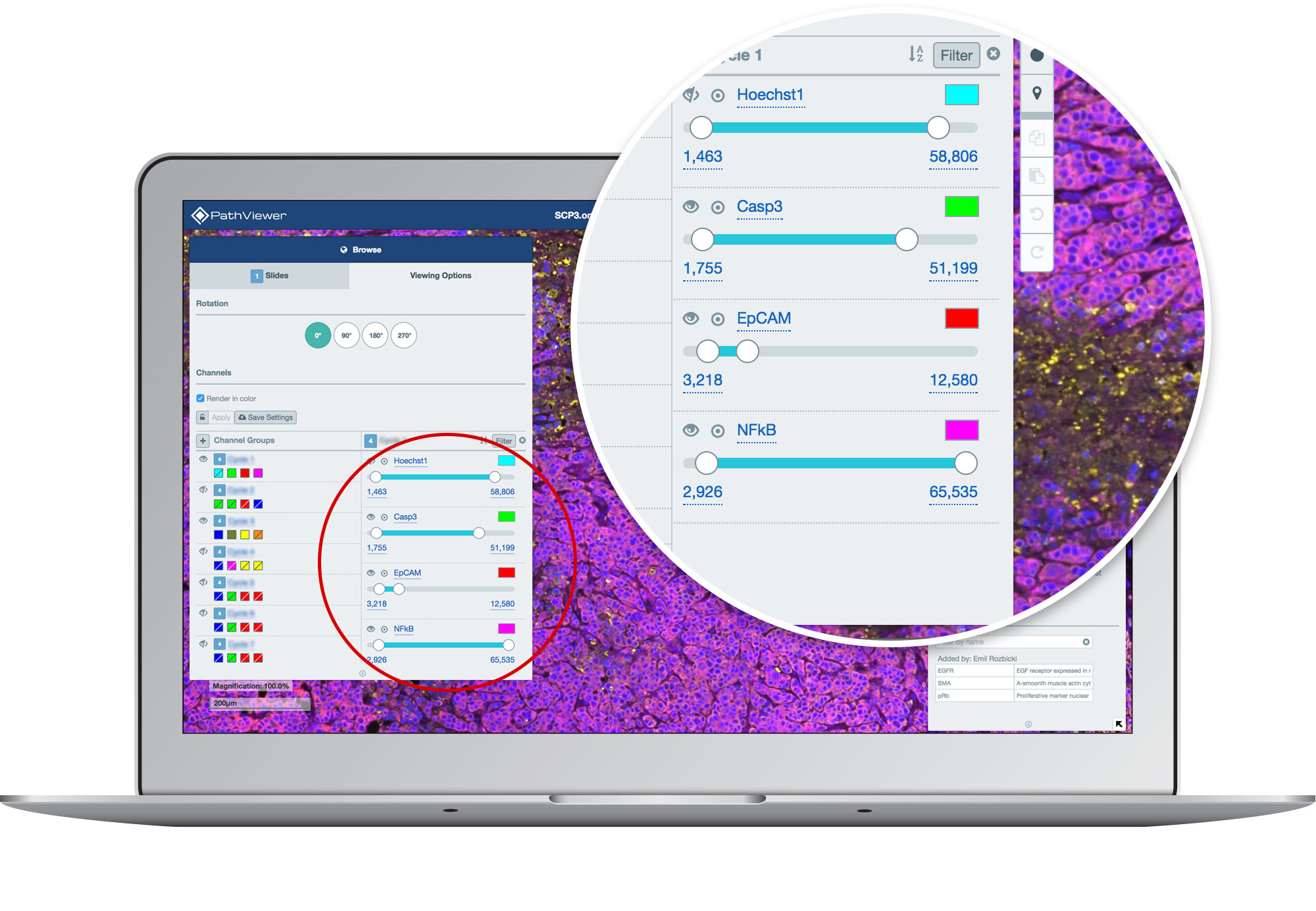 Support for multichannel slides
Exploring images with a large number of channels can be challenging. To simplify existing visualization workflows and allow creation of new ones, the channel list can now be split into groups. With no limitations on the number of groups and the number of channels that can be assigned to each group, you can freely create new visualizations and explore your data more efficiently.
Improved visualization interface
To make the interaction with the data even smoother we have added continuous zoom with the ability to zoom past 100%, allowing you to explore the data in fine detail.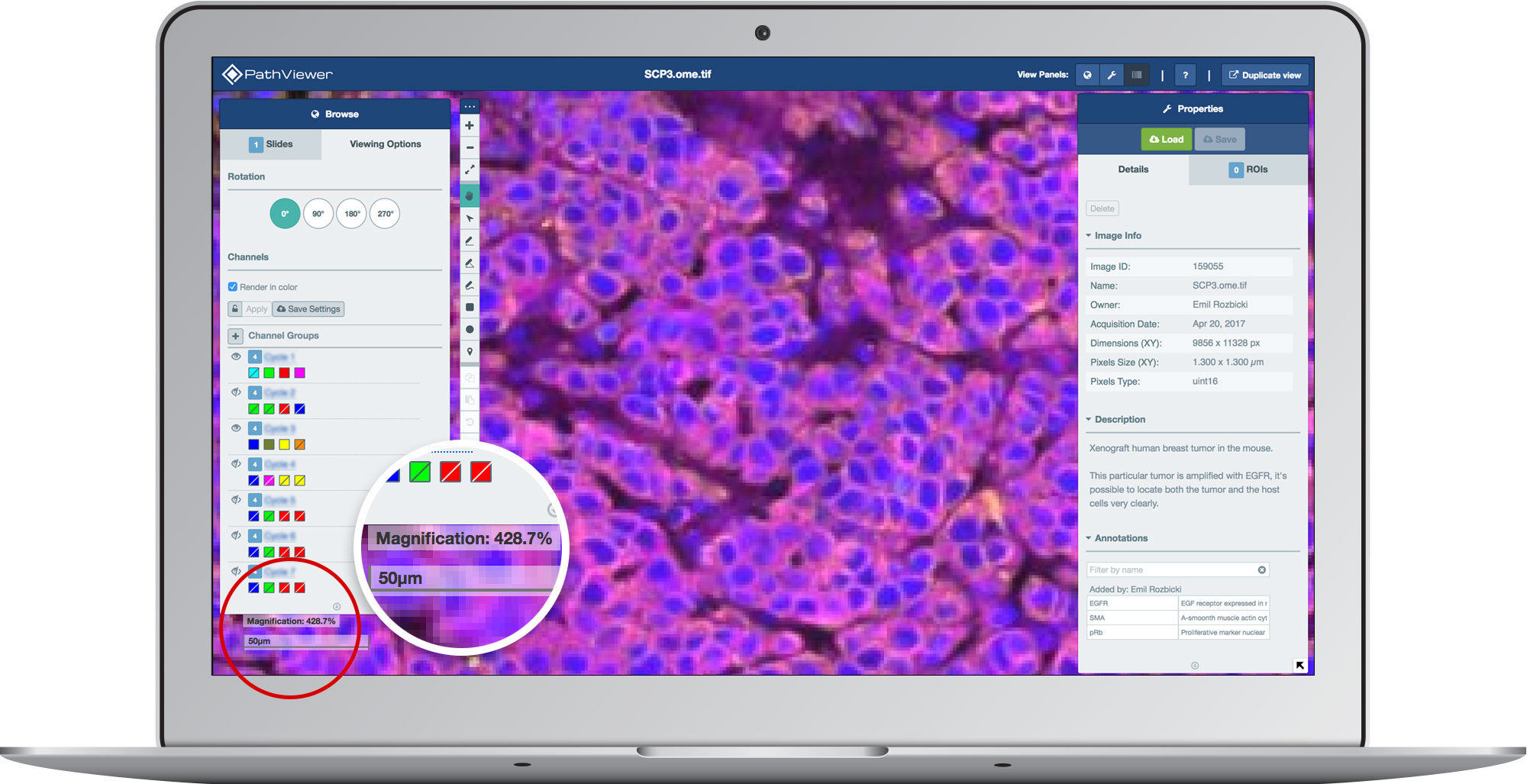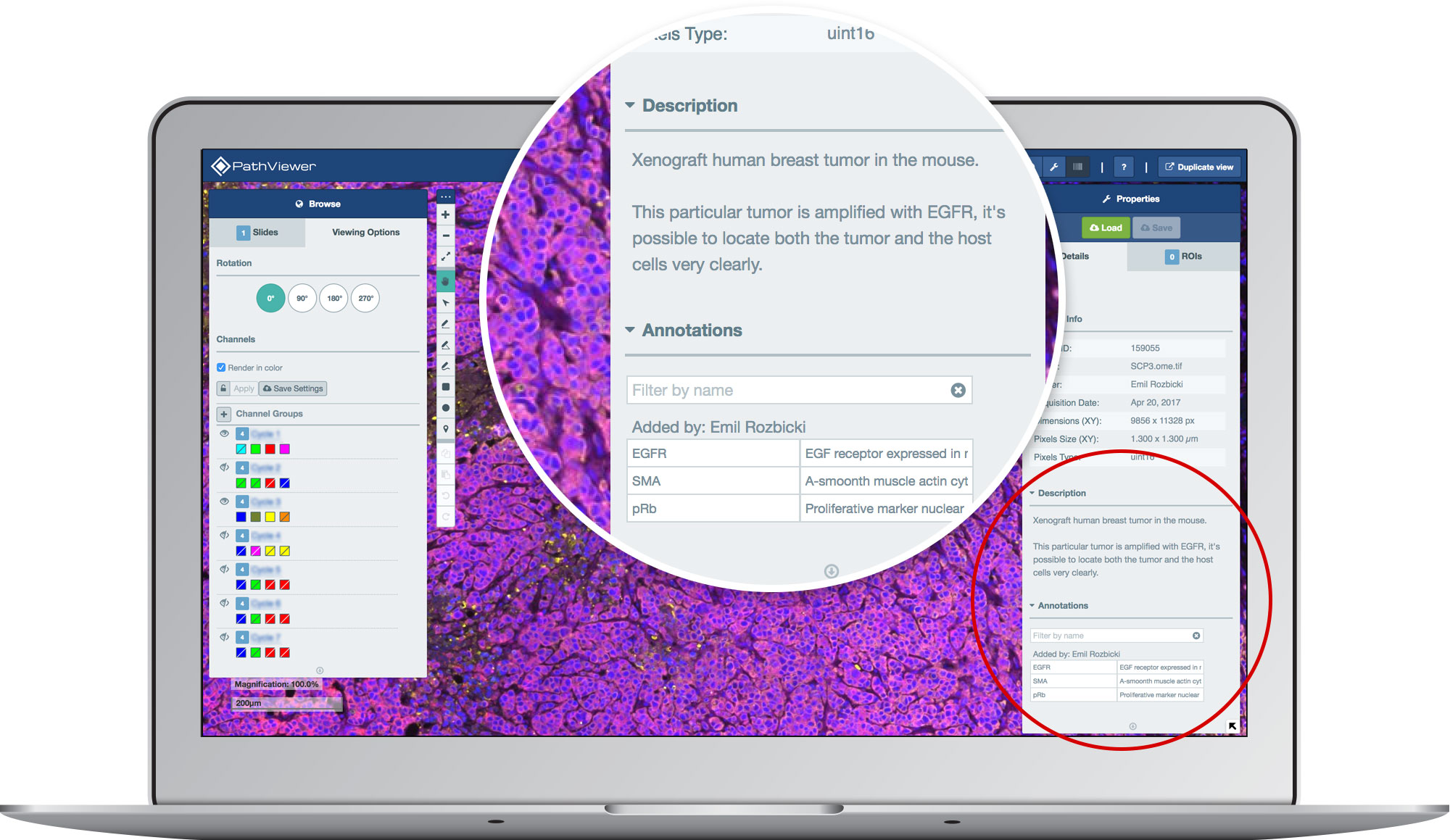 Even more metadata
With the Properties panel now featuring formatted image description and a searchable list of map annotations, you will get the complete image view in a single window.
Features of PathViewer
Creating a product specifically for pathologists involved carefully selecting and developing features that would enhance existing workflows. This includes the following features:
Undo/Redo Functionality
Edit, update, and experiment with confidence knowing that you have full undo/redo functionality available for all operations.
Copy/Paste ROIs
Copy and paste one or more regions of interest (ROIs) either within or between images.
Browser-based application
No need to install any new software! Connect to your data using your preferred browser, anywhere, anytime.
Platform agnostic
With our powerful Bio-Formats library natively supporting over 145+ different file formats, you can pair PathViewer with your preferred scanner and favorite analysis software easily.
Simple, easy, & elegant
The intuitive interface was designed with the user in mind. It encompasses all the power and flexibility that a modern application should possess while ensuring that essential tools and functionality provide the Pathologist familiarity and ease of use.
Drawing & measurement tools
Polylines, Polygons, Ellipses, Rectangles, and Points paired with the ability to zoom in and out while drawing enable precision and extra level of detail. Distance and Area of selected regions are measured in either Pixels or Metric.
Multi-user collaborative environment
Collaborate securely when, how and with whom you want. Multiple users can work on the same image, the same data, the same slide or group of slides, independently or simultaneously. Great for teaching, research and clinical environments where sharing is essential.
Flexible, Secure User Permissions
You control who can access the data; determine who can read, write and/or annotate.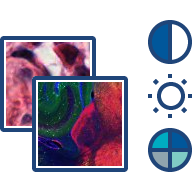 Brightfield & Fluorescence Image Adjustment
Our tools allow you to make color and contrast level adjustments, assign specific colors to channels, turn channels on and off, and even manage image intensity settings. Your personal display settings are saved and applied without making any changes to the original data.
Slide barcode & information overview
See just the essentials or all the deep detail from your acquisition platform with a series of viewing panels which you can toggle on or off with the click of a button. See and Search your cases, projects and individual slides. Browse information on Author, Date and Time Created, Description, ID, and Name.
Fast zoom, highlighting and image rotation functions
Multiple levels of fast, stepwise zoom and rotation to 0, 90, 180 or 270 degrees.
Duplicate window views
x1, x2, x3 x4… Replicate your current view as many times as you like—allows for side by side comparison of images with a template or reference view.
Magnification level options
Mousewheel, +/- button, and keyboard zoom to multiple magnification levels. Toggleable birdseye view which allows you to see where you are zoomed into on the sample. Resizable as required.
Parametric URLs
Share your precise field of view with others as simply as by copy and paste. This method allows you to precisely, quickly and easily share a region of interest (ROI), at an exact magnification and with exact settings.
Flexible, scalable system for any size organization
OMERO Plus has been designed to support a growing user base so can scale with your business as it goes from 5 to 50 or 500+ employees. Horizontally or vertically. Its interoperability also means that if you want to start with OMERO Plus for Digital Pathology, and then your colleagues from high-content or high-throughput screening want to get involved, we can make the support of multiple domains on the same system happen easily.
Support for large multi-terabyte datasets
Our day job is to support large, multi-terabyte datasets—The OMERO Plus system that powers PathViewer was designed and architected from the start to address the challenge of large, heterogeneous data sets regardless of the size of the organization.
OMERO Plus Integration
Connect with your favorite image processing and analysis tools such as Imaris, ImageJ, Fiji, MATLAB, and many more. Add in your LIMS or ELN.
Data Management Experts
Glencoe's team boasts decades of experience in computational image informatics. Our solutions are used in thousands of institutions worldwide to power big image data discovery. We leverage expertise constantly to benefit our customers. We can provide everything needed to accelerate department-wide implementation and help you move successfully to a digital pathology environment. Custom linkage to internal electronic lab notebooks (ELN) with the option to create customizable properties is also possible.
Superior Service and Support
Glencoe can provide comprehensive levels of support and service based on your needs. Installation, software and system architecture support as well as performance tuning and monitoring can all be covered.
Our dedicated team of professionals will tailor a solution to fit your organization's needs and keep everything running long after installation.
Let's Talk Digital Pathology
How can we help?